call it faith or luck but my pet cat, Garfield got really ill since yesterday...
I did not bring it to the vet because first of all, I just brought it to see doctor last month for fever and viral infection and I thought that Garfield couldn't have fall ill again , or will it...?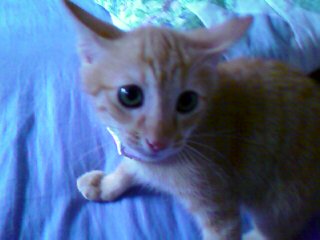 secondly is because, although Garfield looks ill, but it still drinks loads of water and walk around the house... something it did not do when he was ill last month...
but this afternoon, I spotted pools of blood around my hse... at the toilet, living room and also the car porch...
And so I brought it to the same vet again near my hse - Klinik Haiwan Dan Surgeri...
It turns out that Garfield might have stone in the kidney and urinary tract infection...
which is very deadly... the doc told me that I have either 2 choices... To feed it medication at home (which is a cheaper option, might only cost rm100 plus), but it might not work and the probability for gar to die is very high....
Or to hospitalised it where first it will be injected with I-don't-know-what... so that it will faint for bout 10-20 mins and then a surgery will take place... something inserting a tube thingy (I was so stunned I weren't actually listening to what the doc was saying...)
and then it will have to stay at the clinic for around 3-5 days for the doc to observe its condition...
I chose the latter option... or should I say the only option available... Don't you think so...?
which cost me rm 500 plus in total... for 5 days stay...
the saddest thing is the doc told me that he will do his best but he cant confirm that Gar will survive it.... sigh....
I really don't understand why is it that all my pets end up like this????
all i can do now is pray that Gar will make it....
I don't know how my life would be to lost Gar.... it's been with me for 1 year plus already... he means alot to me....